type: Academic topic: Science and Technology program: Professional Health
What is a premedicine post-bacc? (Hint: it's not just to prepare you for med school).
So, what is a premedicine post-bacc?
A premedicine post-bacc (post-baccalaureate) is a certificate program that gives college graduates the opportunity to complete undergraduate science courses in preparation for application to medical school and other related professional schools. 
At Northwestern University School of Professional Studies, the premedicine post-bacc offers you a chance to build a deep and strong science foundation in rigorous classes taught by Northwestern faculty. Classes in the premed post-bacc are offered in the evenings with some labs held during the weekends. As part of the required curriculum, students take laboratory science courses in biology, general and organic chemistry, and physics required for application for further education. 

 "(The post-bacc) way over-prepared me, in a good way. I'm sure that there were questions that the MCAT could have thrown at me that I only would have been able to answer because I took specific classes with professors who taught at a distinguished level."
Fiona Fimmel
, SPS Premed '19
The program can be completed in 12, 15, or 21 months depending on your needs. 
Who is a premedicine post-bacc for?
A premedicine post-bacc is designed for those who studied something different in undergrad and are now realizing that their passions lie in medicine. This includes individuals interested in medicine (getting your MD or DO), dentistry, veterinary medicine, pharmacy, podiatry, and more. 
"The premedicine post-bacc program is built for students who have developed an interest and passion for medicine after or later in their undergraduate education. This can be anyone from a student who wasn't totally ready to complete pre-medicine courses with a bachelor's degree to a true career changer: someone who has been working in a different field for several years and has decided that they would like to shift careers."
Erin Cable
, Undergraduate Program Manager & Former Adviser for the Premed Post-bacc Program
As an evening and weekend program, Northwestern's post-bacc program allows you the flexibility to work during the program, volunteer, or take care of your family while also taking courses. This structure simulates the day-to-day experience during medical school and medical residency where doctors-to-be and doctors have to balance work at the hospital and studying for exams. 
"Having been out in the world made a huge difference in how I handled medical school. At Northwestern, I learned how to manage my time. I didn't pull all-nighters. I knew what was relevant."

John Stracks, MD (alum)
What can I do with a premed post-bacc?
The premed post-bacc program gives you the opportunity to take all the coursework needed for medical school and other professional schools (like dentistry, veterinary medicine, pharmacy, and podiatry), but it can also be a platform for individuals interested in academia and research. Students can take the coursework needed to explore other paths, such as:  
Med School
Other professional schools (medical school, veterinary school, and dental school all have similar prerequisites)
PhD programs in the sciences
Academic research opportunities
Public Health
Non-clinical opportunities in healthcare like:

Healthcare Administration 
Genetic Counseling
Patient Advocacy
Community Health education
Health Analytics or Health Informatics
I want to be in healthcare now! How can you help me quicken the process?
Students interested in moving quickly through the program can choose to complete it in 12 or 15 months, rather than in the 21 month format. 
From there, a medical school linkage is a great way to put your medical education and career on the fast track. A linkage is a special relationship between a post-baccalaureate premedicine program and a medical school. Students who are admitted to a medical school via a linkage can accelerate their enrollment by starting their medical studies in the term following completion of their post-baccalaureate program, bypassing the traditional glide year (the year after completion of premedicine requirements that is needed to apply for programs).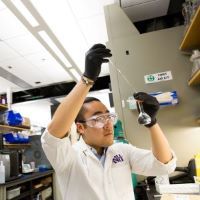 Northwestern University School of Professional Studies currently has three linkage agreements. They are with:
Why should I choose Northwestern's premed post-bacc program?
The Northwestern University premed curriculum is a challenging one that is designed to prepare you for successful application to and completion of programs at top medical schools nationwide.
The Average MCAT score of Northwestern Premed post-bacc students was 514 in 2019 compared to the U.S. national average of 506 (2019 data from American Medical College Application Service (AMCAS®).
In addition to having a top-notch curriculum, Northwestern's premedicine post-bacc program offers students a number of exciting opportunities.  
1: Professional Health Seminars
The program has two quarter-length Professional Health Proseminars, one at the beginning of your journey and one at the end, that support students through the transition to the rigor of a Northwestern science curriculum, as well as preparing for the medical school and professional health programs application process. These courses are exclusive to School of Professional Studies students and are offered at no additional cost. 
2: Tutoring Support
Northwestern University also offers a number of free tutoring services in the sciences, math, and writing. 
3: Professional Networking & Student Support Opportunities
The Northwestern University Pre-Health Professional Student Group (NUPP) is a student community dedicated to supporting its members through the premed program, as well as the medical school and other professional health programs application process. The group coordinates mentorship, tutoring, and admission visits throughout the year, as well as hosts conversations and lectures. 
"The variation in our student community creates a truly unique experience. Students in the pre-medicine program may learn alongside someone with a successful career as a professional violinist, engineer, or someone who has been working in clinical research for several years." 

Erin Cable 
Ugh, I'm still not sure if a premed post-bacc is for me. Any advice?
You're never alone in the premed post-bacc program at Northwestern University -- but you don't have to take our word for it. Read below for advice from our community members. 
"Jump on any opportunity to learn more about medicine and what a career in medicine entails. In talking with my peers, it seems that having a solid understanding of why you want to do this [medicine] will help you get through the program best. Also, involve yourself in activities such as volunteering, shadowing, jobs in/around medicine, etc. It will allow you to see where you can go through this program and is a huge motivation for the long days." – Brianna Barenberg, current student
"Try it out! It can be tough to go from a non-STEM background right into a rigorous curriculum. Luckily, there are a good number of free or low-cost resources available for students to get a brief introduction into these topics, like a Khan Academy series, MIT OpenCourseWare, and open source textbooks. These are all free and allow students to explore the topic without a financial commitment. Should a student apply and be accepted, these types of resources can also serve as a foundation before getting started in classes. "– Erin Cable 
"Choosing Northwestern for my premed post-bacc was a no-brainer for me…I knew that level of instruction at Northwestern would be rigorous. You want professors that hold students to a high standard because that is exactly what you need to be a competitive medical school applicant." – Sarah Clark, SPS Premed '20
"[The Northwestern University post-bacc] is not a cut-throat environment…Everyone really wants to help each other out and everyone is in the same position, that this is their second career, this is something that they really want to do." –Abigail Paras, SPS Premed '20
Interested in other types of medicine? Explore our nursing, physical therapy, and other professional health programs.
Northwestern University offers certificate and preparatory coursework programs in:
tags:
March 29, 2021